June 25th, 2020 at 9:17 am EDT | By Catie Santos
This Pillow Is Quickly Becoming The Must-Have Gift Of 2020
Gift giving is getting an upgrade with Dosaze!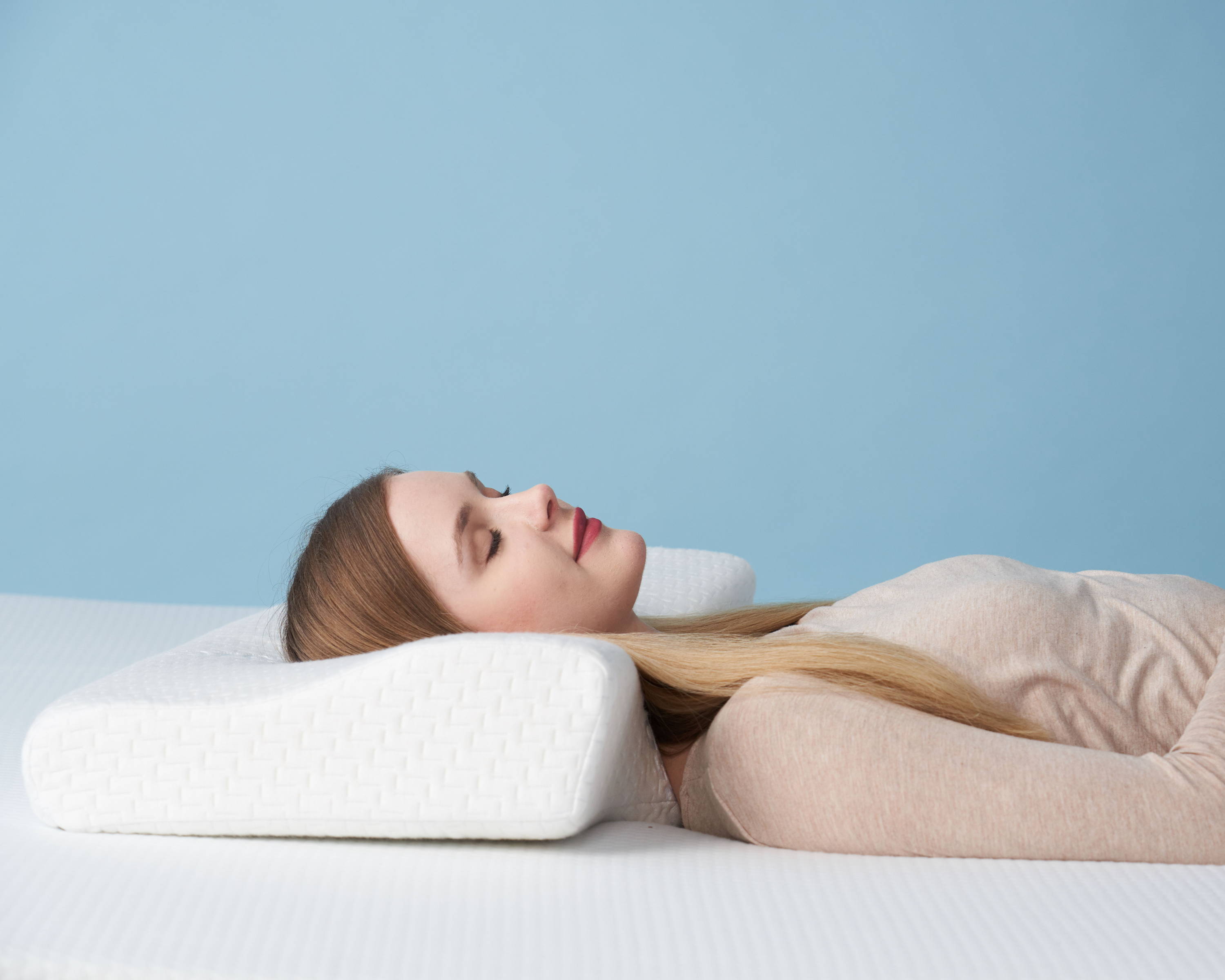 With thousands of verified 5-star reviews, what is it about Dosaze that's making everyone want one?
People usually want TVs, makeup, designer bags, the latest phones, and must-have electronics. So when thousands up thousands of consumers started buying our pillow, analysts everywhere were scratching their heads, asking...
Wait, what?!?
Consumers all over wanted to get their hands on a Dosaze Contoured Orthopedic Pillow.
Patricia and her husband had been sleeping on a Dosaze pillow for a few months now. "My granddaughter Stephanie came over the house last week for a sleepover," Patricia says.
"We had spent the day playing around in the backyard, and Stephanie said she was tired and wanted to nap," Patricia explained. "I headed to my bedroom and grabbed my pillow so Stephanie could use it to nap on the couch," Patricia continued, "She said, 'Oh my goodness, Nana, this pillow is so comfy.'"
Patricia told Stephanie she could sleep on it that very night to see how she likes it. The next morning, Stephanie woke up and said she felt amazing. She woke up feeling well-rested, and she didn't feel any stiffness or tightness in her neck which was a huge surprise.
"That's the exact reason I bought the pillow for my husband and me. We were tired of waking up with stiff necks, so I wasn't surprised when Stephanie told us what it did for her."
"What followed completely caught me by surprise," said Stephanie. Stephanie told Nana that she wished her college dorm had the same pillow, and just like that, Patricia knew exactly what she was going to get Stephanie for her birthday next month.
Stories like Patricia's are so common. Thousands of people are buying Dosaze pillows for their friends and family.
Another satisfied customer, Linda, says "On the very first night, I noticed a difference. This is cause for celebration because I have purchased so many pillows to help with the new pain in my neck. Not only is the pain gone, I have also stopped snoring. This is my forever pillow."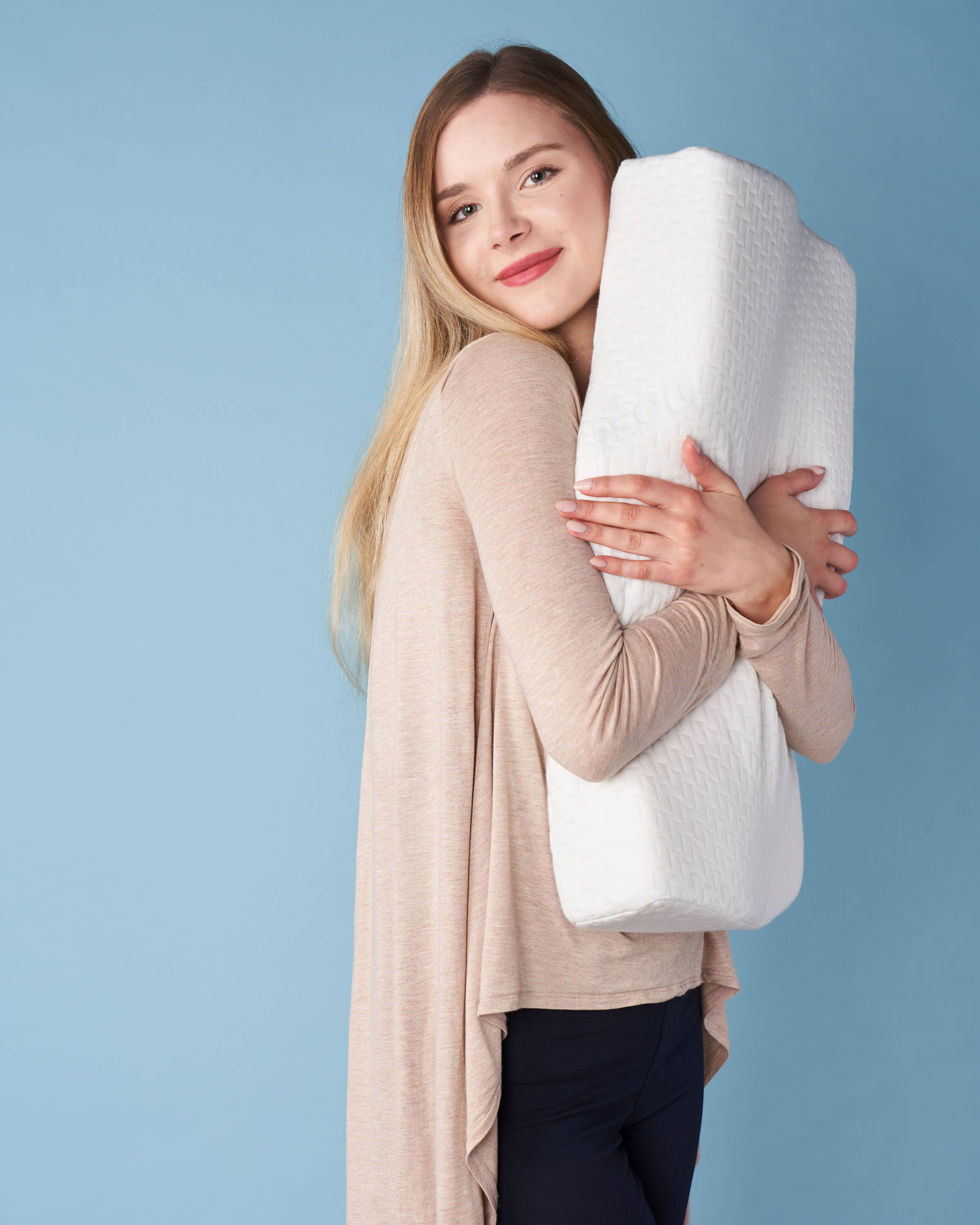 Who would have thought a pillow would become one of the hottest products of the year?
Dosaze started making huge waves on social media and in the news for their unique, innovative contoured orthopedic pillow. Now, they are the highest and most rated pillow for neck pain with over 2,500+ 5-star reviews!
Below are some of Dosaze's game changing benefits that make it one of the most popular products of the year.
Get an incredible night's sleep!
Ever imagine what it would feel like to sleep through the whole night without waking up? Or better yet, to sleep through an entire night and wake up feeling the most rested in years? Well, with the Dosaze Contoured Orthopedic Pillow, you don't have to imagine it.
Dosaze is a unique, innovative pillow made with high-quality memory foam. It comes with a breathable bamboo cover that is temperature-regulating, and it makes tossing and turning a thing of the past. The pillow adjusts to your body's temperature keeping you cool throughout the night.
The pillow is soft and comfortable. Once you rest your head on it, you'll sink it and enter a whole new world, one which you'll never want to wake up from!
With Dosaze, you won't wake up in the middle night anymore. You can sleep through the night and wake up relaxed and refreshed.
"I love my new Dosaze pillow! I have a bad back and arthritis in my neck and it's difficult for me to get a good night's sleep as a result. This pillow is wonderful! I don't toss and turn as much and sleep deeper and better. And no neck pain in the morning! I love it so much, I am ordering one for my husband next. It was well worth the money and I recommend it!"
You'll never wake up with neck pain again.
Pillows aren't a one-size-fits-all type of product. Dosaze is the first pillow specifically designed to relieve neck pain. Working closely with ergonomists, the team identified poor sleep posture and improper spinal alignment while sleeping as the main cause of neck pain. The pillow features a unique and innovative design that cradles the user's neck comfortably on both sides while sleeping. The pillow provides enough support to improve the alignment of your neck, back, and shoulders while also being soft enough to cushion your head for the entire night.
You'll wake up feeling the best you have in years!
"Dosaze was advertised to me on Instagram and I was a bit skeptical, but have been dealing with neck pain for years. This is the first pillow that reduces my neck pain and keeps me more functional on more days. I definitely recommend it, for back or side sleepers."
Take a look at what some people have been saying about their Dosaze Pillow:
"This is actually the best pillow I've ever had. Every pillow says that, but this one actually is. Most pillows start out great and then phase out but the Dosaze was comfortable the first night and still is on night 20+"
"I've tried many different and expensive pillows and this one tops them all! It's affordable and it's amazing. My sleep pattern hasn't been this good in years and I wake up with no pain in my neck or back! If you are contemplating buying the pillow...do yourself a favor and press BUY NOW! You won't be disappointed. I guarantee it!"
"This pillow popped up on my Instagram ads and I'm so happy I made the purchase. I've dealt with chronic pain in my neck for two years. I've tried 5 different pillows, gotten MRI's and gone through physical therapy, but honestly nothing has helped me like this pillow has. I don't wake up with neck pain anymore and it's great for my alignment. My fiancé even wants one. Highly recommend!"
"I am prone to neck and shoulder pain. I reluctantly ordered this pillow thinking it would be just like all the others I had previously tried. I felt my money would be wasted, but because I was desperate for relief from pain, which kept me from a good night's sleep, I ordered it. The pillow arrived in about a week. I immediately unpacked it, slipped a pillow case on it and gave it try that night. I was so very surprised and happy when I woke the next morning. I didn't wake with the normal ache in my neck and shoulder. It took about 5 days for all the shoulder and neck pain to disappear, but, disappear it did!"
"I have been looking for the right pillow for a while. Since I got my dosaze I have been sleeping a lot better. Not gonna lie it really helped me sleep better!"
"I bought this pillow after seeing an Instagram add showing the nerves in the back of your head all fired up. I started working from home due to Corona and my set up wasn't very ergonomically correct. I was contributing my neck/head pain to my work set up. When I bought this pillow on a whim I was desperate for relief. Turns out- I'm pretty sure my regular pillow was the source of my pain. I was having constant 8/10 nerve head/neck pain. That has almost completely gone away since using this pillow. It's more flat than what I'm used to sleeping with so adjusting to the pillow the first week was tough, but it's worth it."
It's easy to see why the Dosaze Contoured Orthopedic Pillow is becoming one of the must-have products of 2020.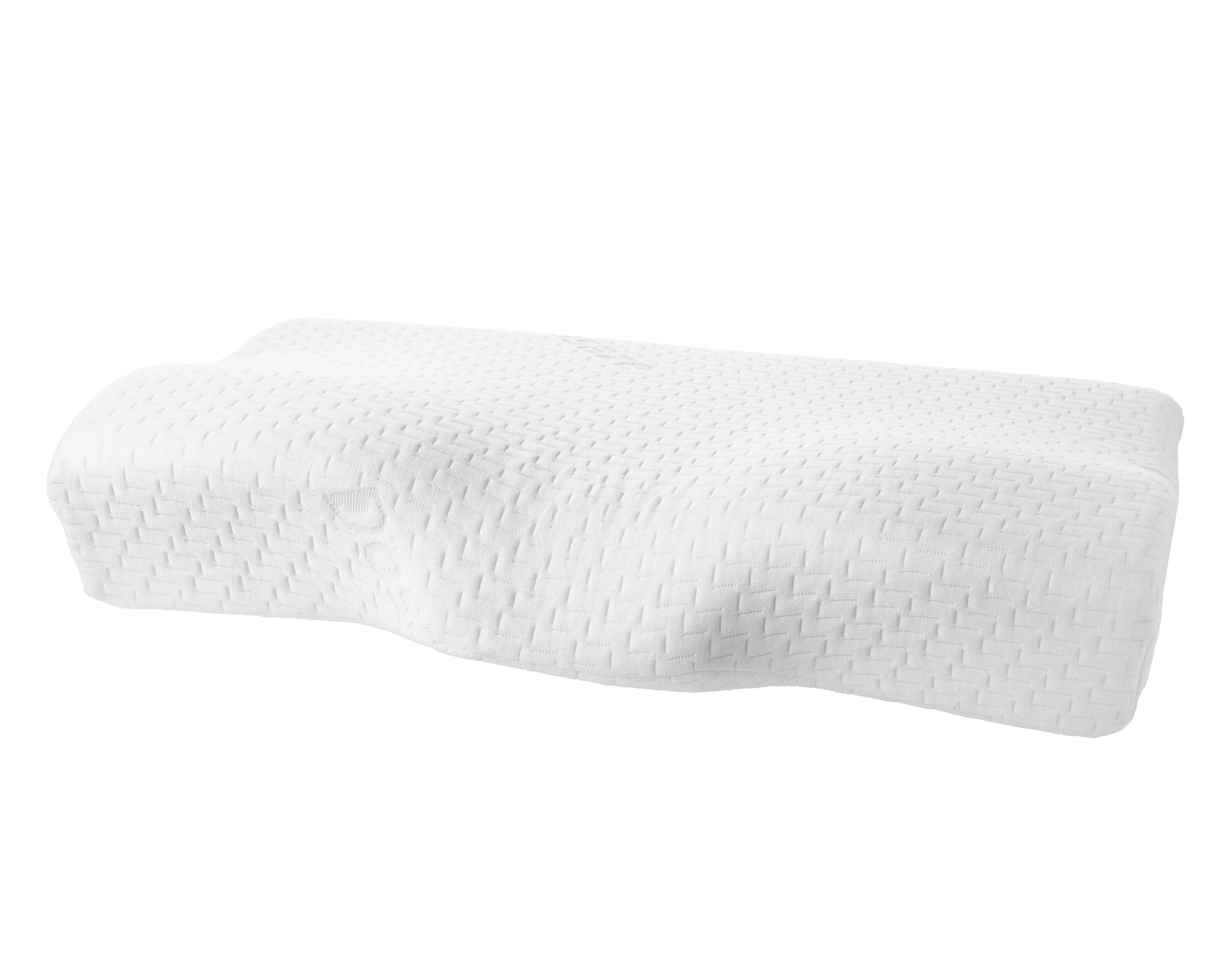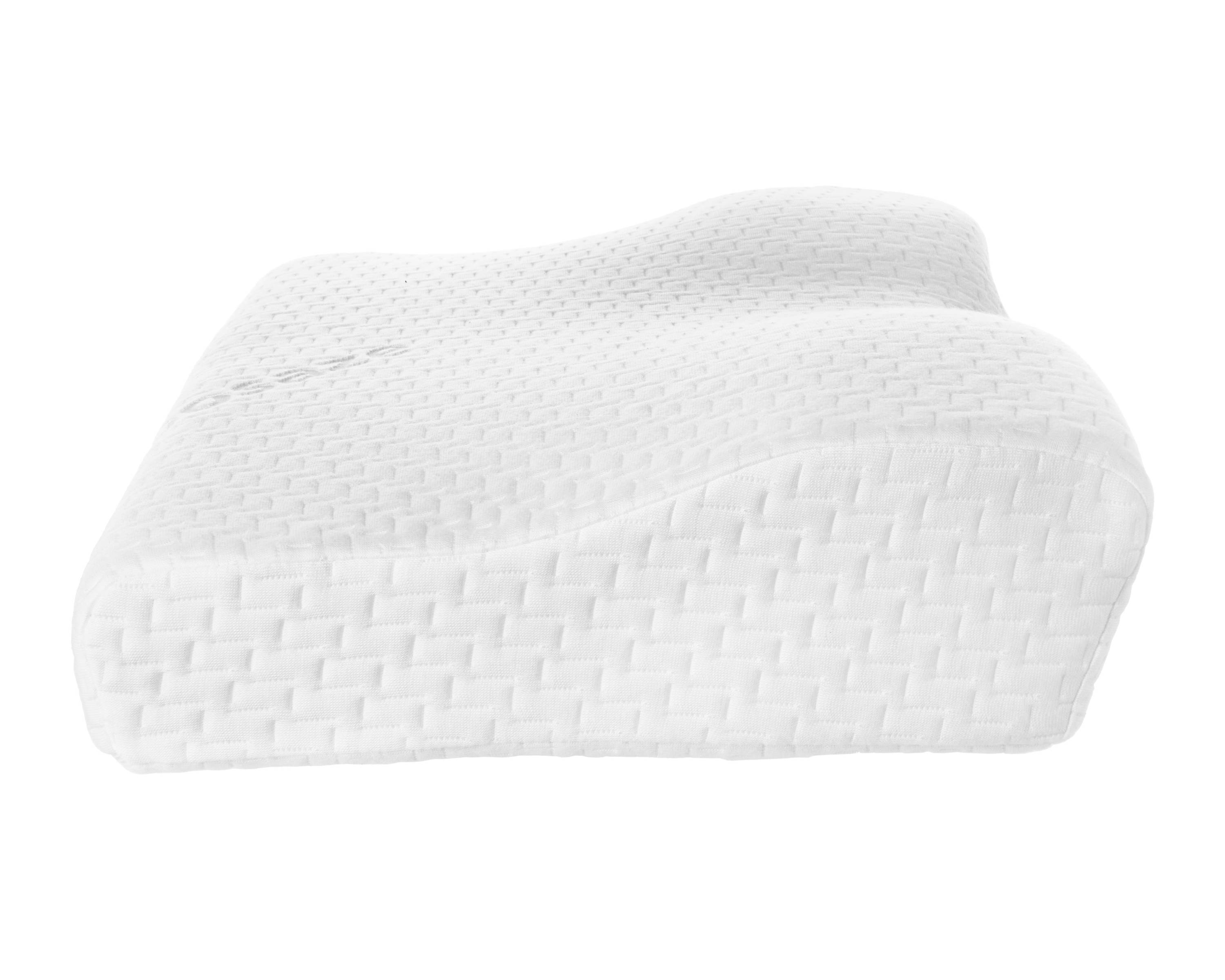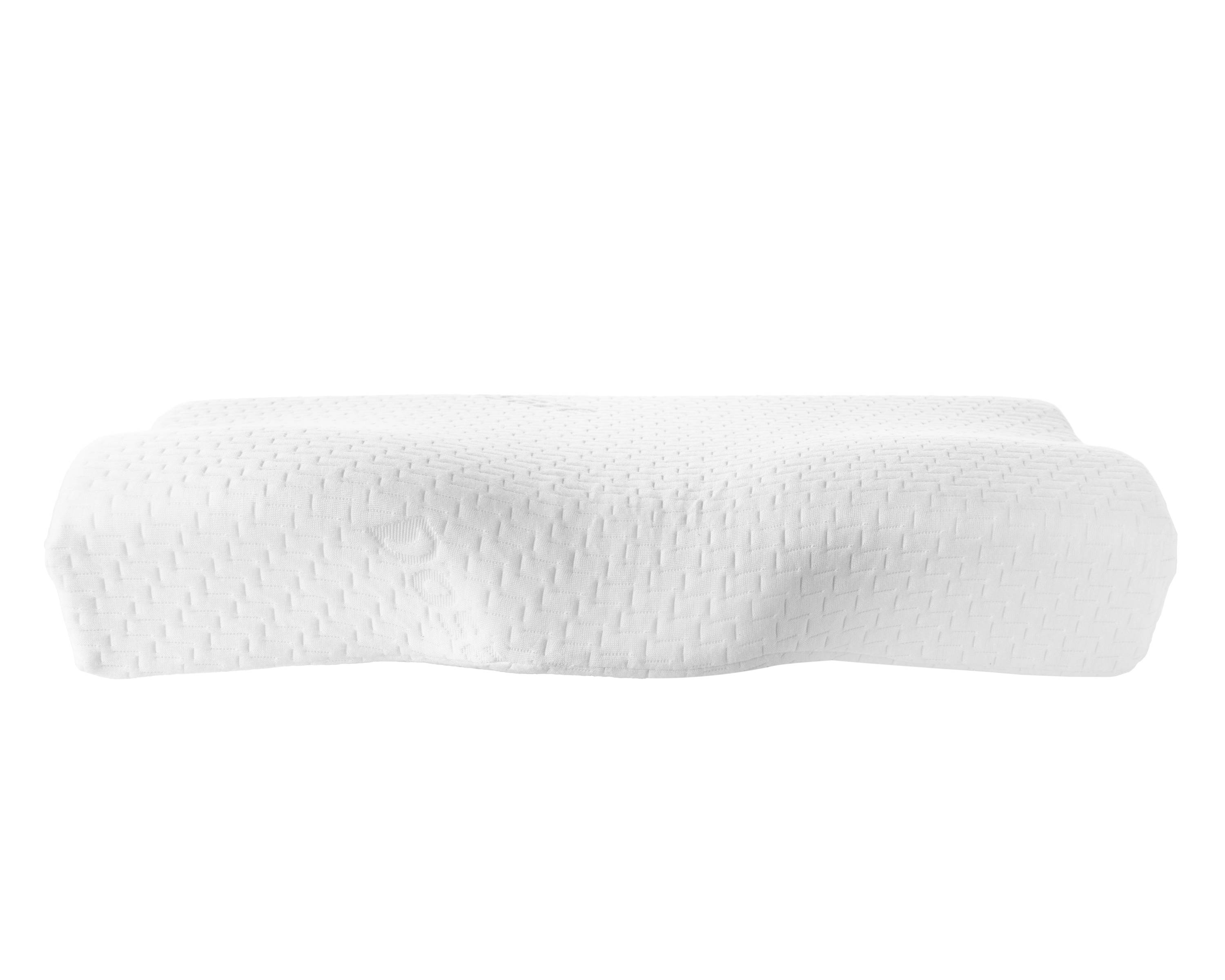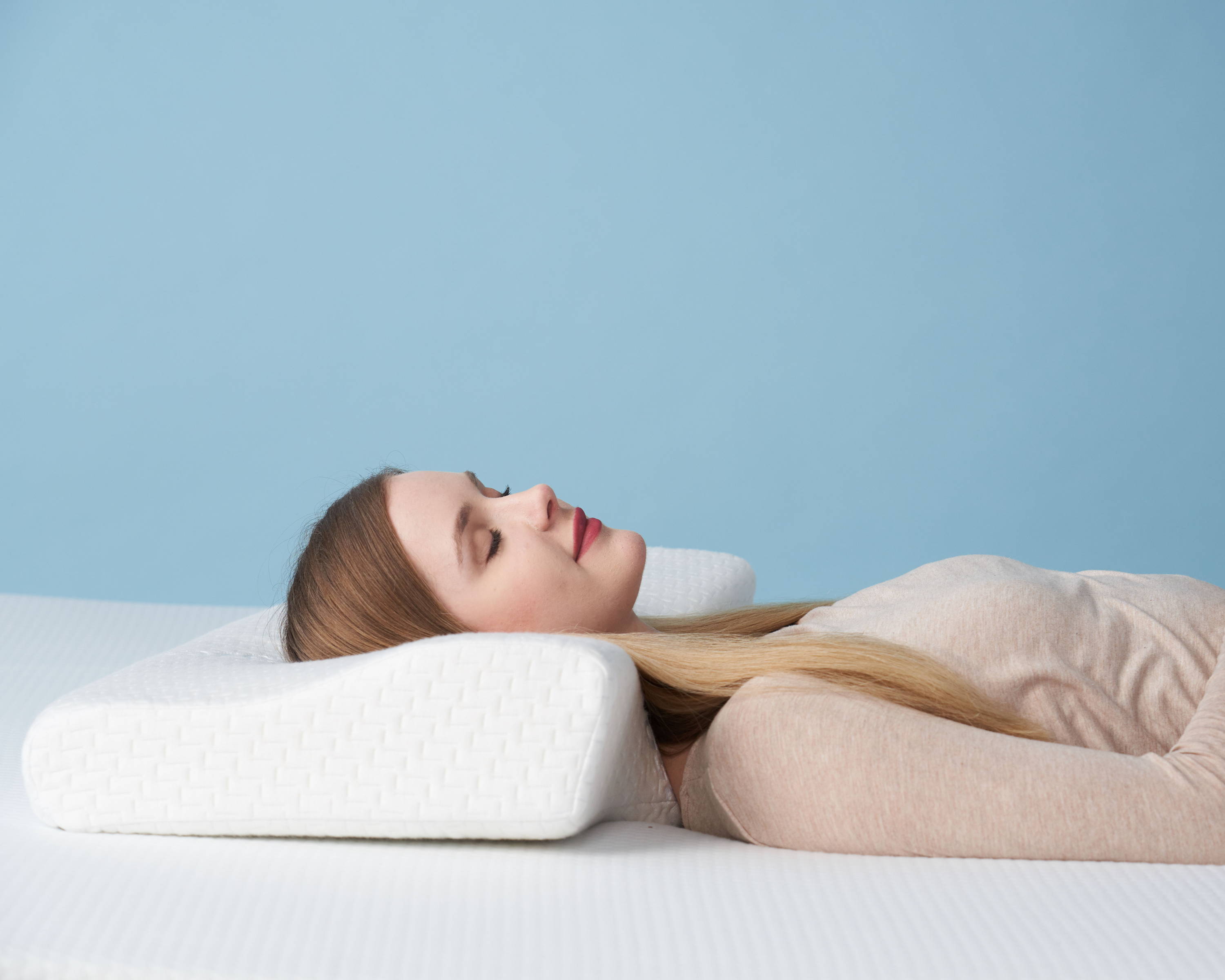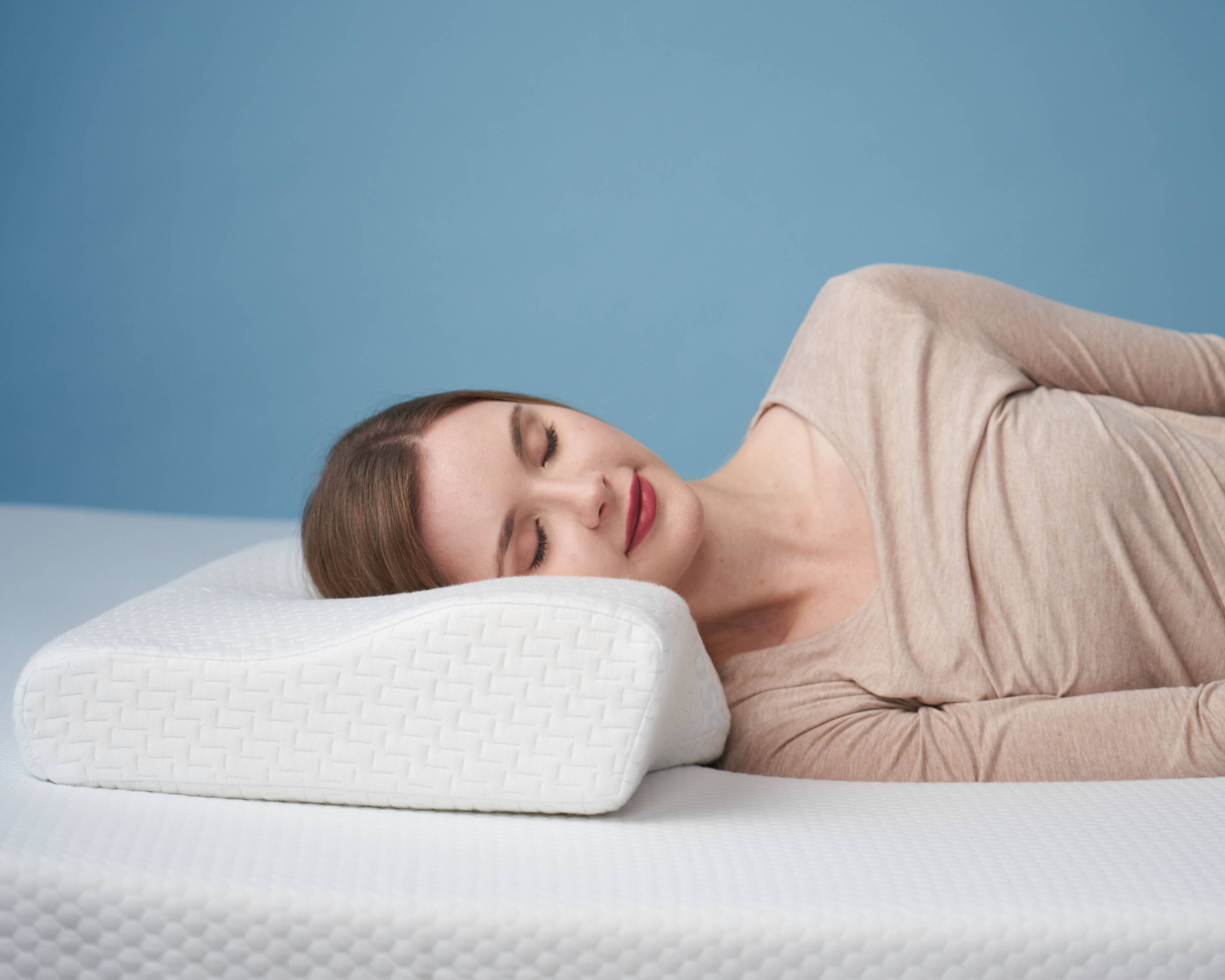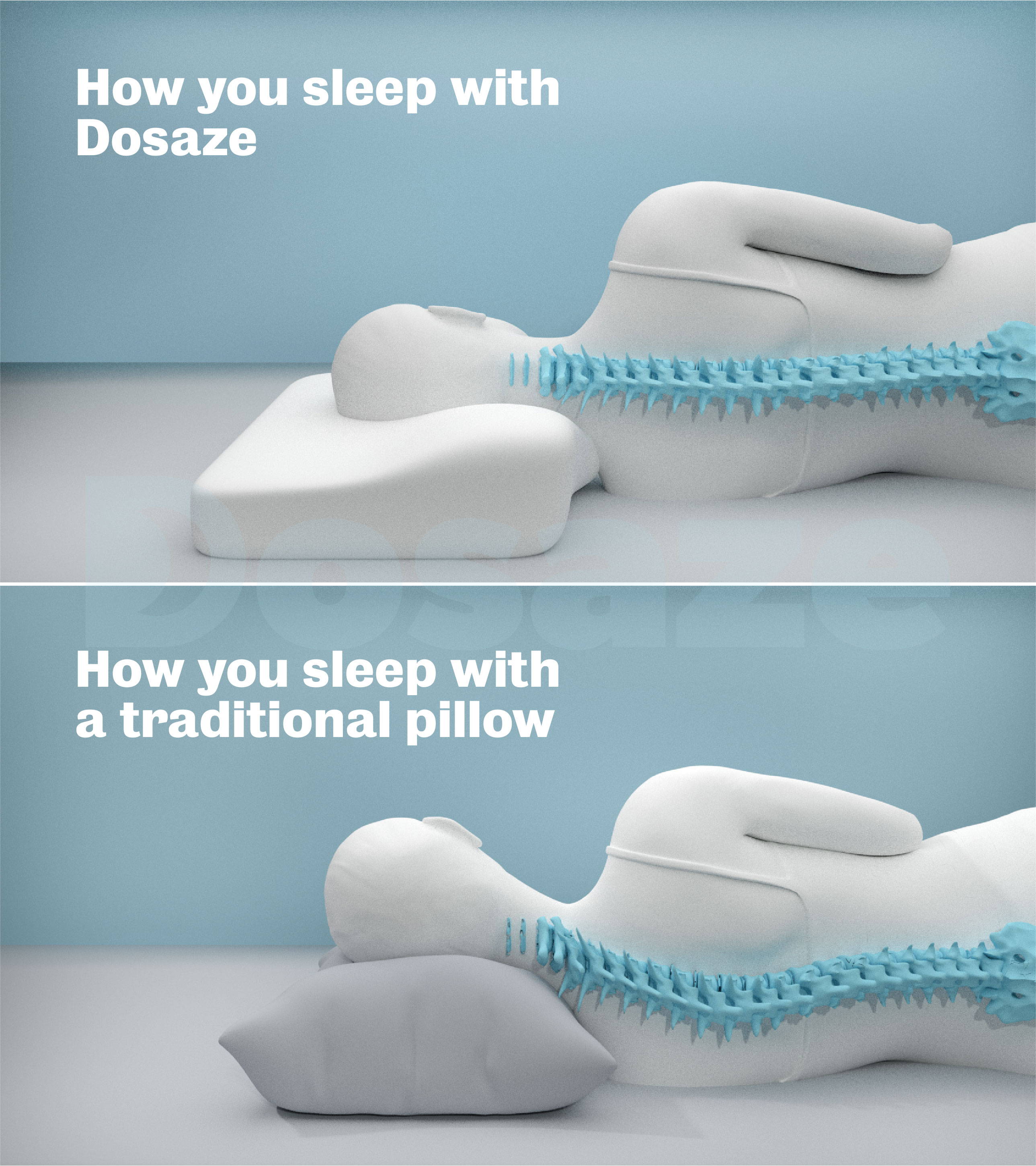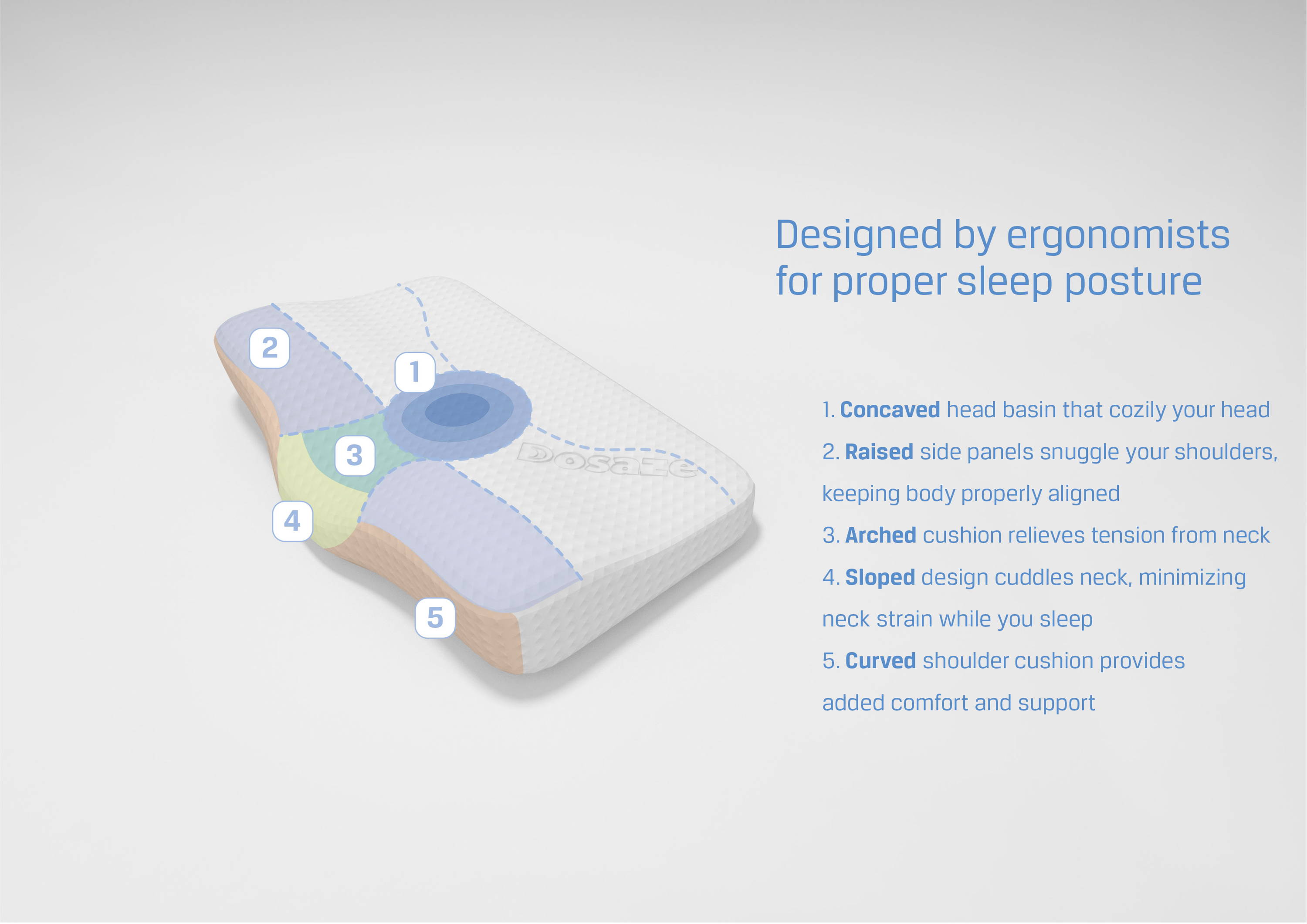 Ships FREE from San Bernardino, CA
This breakthrough pillow is helping thousands of Americans wake up feeling relaxed and refreshed. Using premium, high-density, memory foam and an innovative contoured design, the Dosaze™ Contoured Orthopedic pillow cradles the natural curvature of your neck, providing proper support and alignment so you never wake up with pain in your neck, shoulders, or back again. Its shape also allows for proper air flow so that it stays cool throughout the night.
Key features:

• Best for: side, back, and stomach sleepers, snorers, tossers and turners

• Innovative contoured design

• High density memory foam

• 30-night sleep trial and 1-year warranty

 
Dimensions: 23.6 in. x 14.96 in. x 4.72 in.
 
Materials: the Dosaze™ filling is made of high density memory foam and the case is a super breathable fabric made from 60% polyester and 40% recycled bamboo.
Removable cover

• To Wash: Remove cover and wash in the machine in cold water, on a delicate cycle. Do not use fabric softener or bleach.

• To Dry: Tumble dry low heat. Make sure the cover is completely dry before use.

 
Inner pillow/filling

• Please note, we do not recommend washing the inner memory foam pillow as it will impact the integrity of your pillow.
---
---
It doesn't matter if you are a back, side, or stomach sleeper. This pillow will work for you.
All orders ship free from our warehouse in California.
We have a 60-day sleep trial. If you aren't totally happy with your Dosaze Pillow, return it for a full refund.